XBOX LAUNCH GAME RETROSPECTIVES:

NFL Fever 2002 – A Defense of the Mediocre NFL Game

Tony Hawk's Pro Skater 2x – The Duke Abides: Revisiting Tony Hawk's Xbox Debut

———————————–
Original post (3/30/21): I'm in a pretty celebratory mood at the moment. I got the first dose of the vaccine, my bracket is still somewhat in tact (for now), and — with the looming 20th anniversaries of the Microsoft Xbox and Nintendo GameCube — I have the perfect excuse to rekindle my bizarre, nostalgia-fueled fascination with sixth generation console launches with a birthday celebration of sorts.
Now, I didn't get a GameCube until quite a ways into the console's lifespan but I did get to enjoy the OG Xbox from around day one (give or take a couple weeks). At the time, a cousin of mine worked at Microsoft and he hooked me up with a number of launch-window games, including Fuzion Frenzy, Oddworld: Munch's Oddysee, Amped, and some other obscure game I can't remember the name of. I believe it was called "Ring" or something like that?

Or "Hoop," maybe? It'll come to me.
More recently, I had the bright idea to fill out my collection of all 20 North American launch day Xbox titles…plus Amped (which actually came out a few days later, not that anyone remembers or cares). So I did.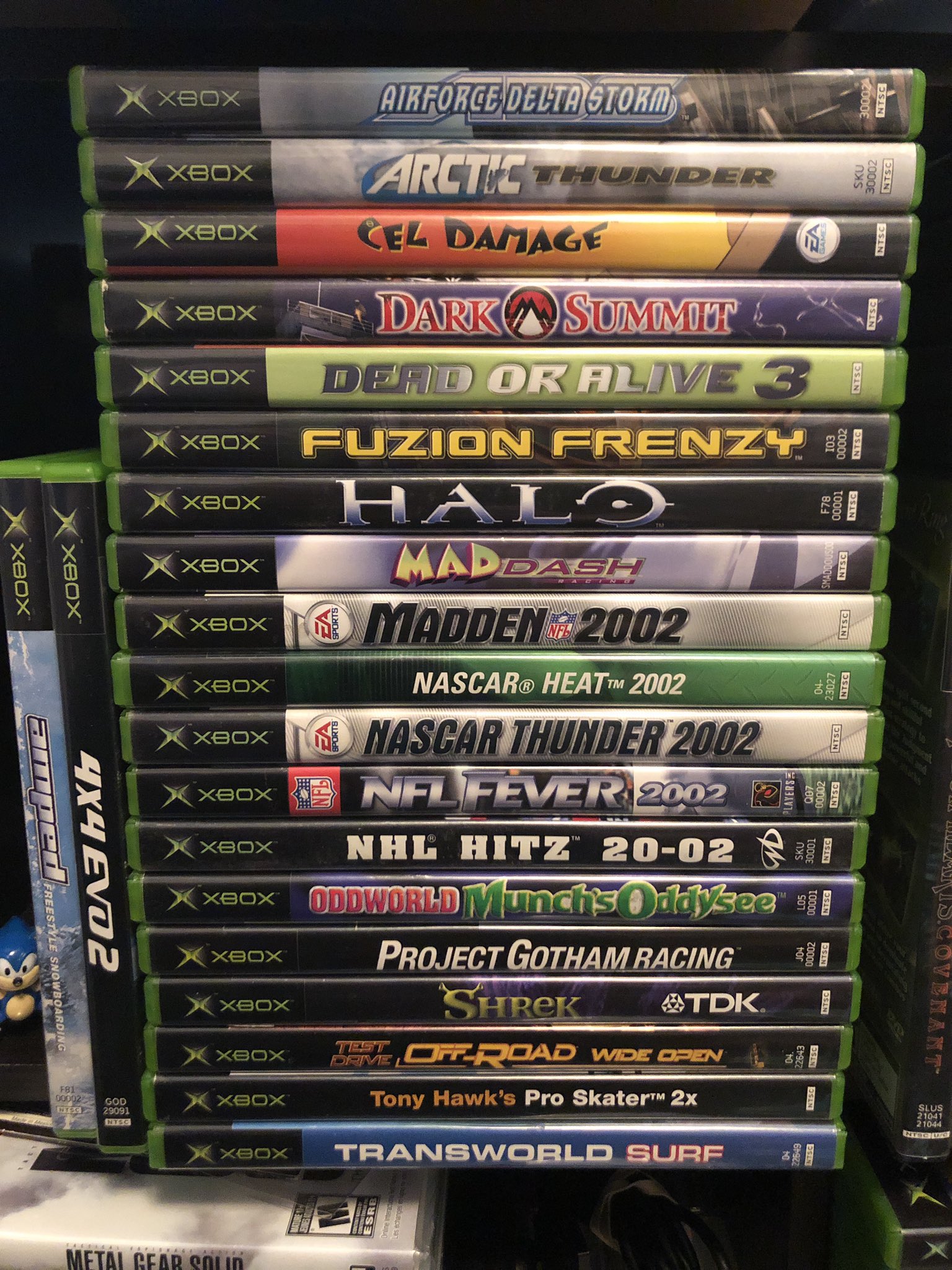 With that accomplished, I figured a good next step might be to actually play them. All of them. And all the way through them (within reason). And my goal will be to play through all of them in time for the Xbox's 20th birthday on November 15th, 2021. Beginning with this post, I'm kicking off what I'm assuming will be a multi-part retrospective series where I summarize my mishmash of thoughts and impressions on each of these titles, two decades onward.
At this point, I've already put a great deal of time into revisiting a handful of these, having recently completed Airforce Delta Storm, NASCAR Heat 2002, Halo, and I'm currently in the middle of a full season of NFL Fever 2002. Although I'll remain at the mercy of my perpetual writer's block (as always), I do plan to dive into these games with their own follow-up posts soon. In the meantime, I'll be posting a variety of random tidbits and dumb jokes about these titles on Twitter (@Virtua Schlub), so there's that.
Well, that's about all I've got at the moment. Stay tuned. For now, I'll just leave you with these:
A key pillar of any good racing sim is how closely its custom car tools let me approximate the Hornet from Daytona USA.

In this regard, NASCAR Thunder 2020 is only so-so. pic.twitter.com/6qbe1wMzHu

— Jet Brian Radio (@VirtuaSchlub) March 22, 2021
It's party time at Daytona Speedway! pic.twitter.com/d55tkE50jS

— Jet Brian Radio (@VirtuaSchlub) March 21, 2021
I noticed I was having an insatiable craving for Taco Bell when playing a bunch of OG @Xbox games lately. Then I remembered the big promotional tie-in they did back around the 2001 launch.

Anyone remember these? pic.twitter.com/9masnfidwf

— Jet Brian Radio (@VirtuaSchlub) March 24, 2021
Shout out to Airforce Delta Storm, which is the most delightfully mediocre flight shooter I've played since the first Airforce Delta. pic.twitter.com/yessqkE0a6

— Jet Brian Radio (@VirtuaSchlub) February 9, 2021
One of Halo's greatest achievements is in all the absurd and unpredictable ways it lets you fail — but sometimes it goes the extra mile and saves your checkpoint progress while you're driving off a cliff.

You could say I'm falling for this game all over again... pic.twitter.com/6F2to2iOgY

— Jet Brian Radio (@VirtuaSchlub) March 20, 2021